Starting this May, homeowners in
Stockholm

can access pay-per-use power tools for the garden, eliminating the need to maintain and store hedge trimmers, chainsaws and other tools that are used less frequently. The project is a pilot, and part of Husqvarna's commitment to explore innovative and sustainable solutions for taking care of gardens and green spaces.

To view the Multimedia News Release, please click:
https://www.multivu.com/players/uk/8087051-husqvarna-pay-per-use-power-tools/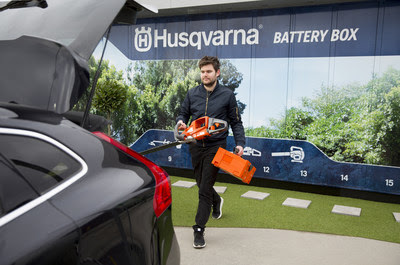 The Husqvarna Battery Box, is a "smart", 8×3 meter, unattended container with 30 electronic lockers that store battery powered garden care products. Via an iPhone app, homeowners can reserve tools, get instructions, pay, and open the locker to pick up their pre-booked power tool. The "box" will be placed at Bromma Blocks, a shopping center 15 min west of Stockholm city. Renting a garden care product will cost 350 SEK a day (approx 35 Euros or 38 USD ).
" People are already sharing homes and cars. To share products that are only used occasionally, like a hedge-trimmer, makes a lot of sense for some users. Husqvarna Battery Box is proof of our commitment to explore new solutions that merge innovation and sustainability, benefitting the homeowner, the community and our distribution network, " says Pavel Hajman , President of the Husqvarna division.
Sustainability and innovation put to the test
This pilot project supports Husqvarna's sustainability agenda to drive the conversion from petrol powered products to silent battery products with no direct emissions in urban areas. Additionally, the purpose is also to test the real-world applications of this technical solution, as well as collect insights on market maturity, customer behaviour, and potential future revenue streams for Husqvarna's distribution network. The test period runs from May 1 to October 31, 2017 .
How it works
After completing registration in the iPhone app (also called "Husqvarna Battery Box"), the customer can reserve one of the 30 available battery powered products (chainsaw, hedge trimmer, trimmer or blower). The app guides the user on how to open and close the door to the particular locker where the product they want to rent is kept. The app also includes "how-to-films" to explain how the product works. The Box, powered by solar cells, will be serviced by Husqvarna staff daily, ensuring that products are in good condition and that the batteries are fully charged.
The connection between the Husqvarna Battery Box and the customer is enabled via Bluetooth. For identification purposes, the customer uses the Swedish ID app "BankID". Payments are charged to the registered credit card at the end of the month. During the pilot period, the app is only available on iOS.
Powerful and silent products in the box
From a performance perspective, the battery products in the box are equivalent to the petrol versions of comparable size, but without the noise and direct emissions. The battery series in the box is powered by a 36V Li-ion battery, and one battery fits all products in the box (chainsaw, hedge trimmer, blower, trimmer).
Project partners and set-up
Husqvarna Battery Box is the result of a partnership that includes Telenor Connexion, Flex, Zuora and HiQ. Flex builds the connected box and reports its status on events handled through a cloud solution with Telenor Connexion. Zuora supplies the subscription payment solution and HiQ builds the app and the system needed to bring everything together. The shopping center Bromma Blocks provides the space for the test.
" We are excited to be part of this innovative project.   For us,   Husqvarna Battery Box is a perfect project to apply our partner ecosystem , catered for businesses that want to take on th e digital transformation journey, " says Mats Lundquist , CEO, Telenor Connex ion.
" HiQ's driving force is to simplify and improve people's lives through technology. The Husqvarna Battery Box Project demonstrates how we can ease everyday lives and take more responsibility for our planet – all with the help of modern technology platforms, " says Lars Stugemo, " President and CEO of HiQ.
" Zuora is excited to play its part in seeing the Husqvarna Battery Box come to life. We see consumers around the world welcoming the new world of the Subscription Economy. It ' s exciting to enable this 3 28year-old company lead the charge of innovation to build long-term relationships with their customers, "says Maria Johansen , Nordics Regional Director, Zuora.
" I n a period of technological transformatio n , when ordinary objects are bec oming connected , t here is enormous opportunity for companies that embrace the new business model s. Flex is thrilled to be helping Husqvarna integrate connectivity , creating a flexible experience for their customers , " says Doug Britt , P resident of Industrial and Emerging Industries at Flex.
" Husqvarna Battery Box gives a glimpse of what shopping centers may look like in the future. We are excited to be the first in Sweden to host this service , as we believe it adds value to our offer and to   all our customers with a garden to care for, " says Sanna Su l tan, manager of Bromma Blocks.  
Images are available at husqvarna.com/press
About Husqvarna
Husqvarna is a brand within Husqvarna Group, a global leading producer of outdoor power products and innovative solutions for forest, park and garden care. Products include chainsaws, trimmers, robotic lawn mowers and ride-on lawn mowers. The Group is also the European leader in garden watering products and a global leader in cutting equipment and diamond tools for the construction and stone industries. The Group's products and solutions are sold under brands including Husqvarna, Gardena, McCulloch, Poulan Pro, Weed Eater, Flymo, Zenoah and Diamant Boart via dealers and retailers to consumers and professionals in more than 100 countries. Net sales in 2016 amounted to SEK 36bn and the Group has around 13,000 employees in 40 countries.
Video:  https://www.multivu.com/players/uk/8087051-husqvarna-pay-per-use-power-tools/
SOURCE Husqvarna